The
E

at

W

ell
-
C

ook

W

ell
course is an informative and practical course run in prison by
F

OOD

I

NSIDE

O

UT
. It provides prisoners with tools to assess their current diets and suggestions to improve their choices from both the prison menu and their purchases from the weekly prison shop. The evidence linking diet to physical and mental health in prisoners is explained and potential benefits of improving diet are discussed
1-3
.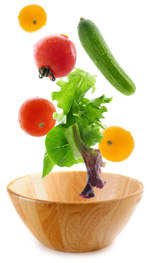 Participants are encouraged to set short term goals to improve their diets in prison and to plan for future dietary improvements they might make on the outside. This information is complimented by practical cookery sessions using simple, low cost recipes showing how to put this information into practice. On completing the course participants receive a certificate of attendance and a pack containing healthy eating tips and traffic light coded and costed recipes.
Over one hundred and fifty prisoners at HMP Bristol have completed and evaluated the course. All participants stated that they found the course interesting and enjoyable. 90% reported knowing more about what makes a healthy diet after the course and 93% said they intended to use the information in what they buy, cook or eat in the future. Throughout the course participants frequently reported that they had made changes to choices from the prison menu and the weekly shop. These changes included more oily fish, fruit and vegetables, wholegrain bread and breakfast cereals (especially oats).
Some of the comments collected during course evaluation are shown below:
"I loved the course - I learnt that I am in control of what I eat - it is a real eye-opener"
"Brilliant I would tell other prisoners the course is very well worthwhile"
"It's a totally different course compared to others available in prison"
"Ways to save money shopping and cooking was useful. I will eat less processed food now"
"This course really does open your eyes to what you are eating everyday"
"Brilliant best course I've done in a long time - totally changed my diet I am more conscious of what I eat"
"It's an amazing course and I will recommend it to everyone"
"I felt the recipes were good as they were easy to cook and value for money"
"The course is run very well&quot
Using prisoner feedback collected on the course,
F

OOD

I

NSIDE

O

UT
has also helped the HMP Bristol introduce a new weekly cycle of healthy breakfasts and to signpost healthy choices on the prison menu. Prison staff have also reported noticeable benefits of the course. Mark Haddow, Head of Catering Services at HMP Bristol says:
"The course has increased the awareness of food and enhanced appreciation of what we are trying to provide from the prison menus. Since the course started we have seen a noticeable increase in consumption of items such as oily fish".
Julian Matthews, Deputy Head of the Integrated Drug Treatment System at HMP Bristol adds:
"The course has been invaluable. The information provided helps prisoners add structure to their lives and provides knowledge on how to make healthy choices at affordable prices. I believe it's a huge stepping stone on the route to reducing re-offending rates".
For further information on availability and costs of delivering this or other courses please CONTACT us.