Welcome to the website of
F

OOD

I

NSIDE

O

UT
- a partnership between an experienced food technology teacher and a registered dietitian.
Our goal is to promote healthy food choices in staff and offenders, both in prison and on the outside in order to help improve mental and physical health.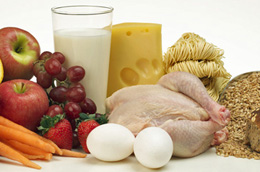 We offer innovative and enjoyable courses in healthy eating, combined with practical cookery skills using simple, low-cost recipes which show how to put this information into practice. This includes our successful EatWell-CookWell course run in prison with offenders. We also run courses for service users of all types living in supported housing and courses for staff development in the workplace in health and well being to help improve their own health and that of clients with whom they work. For more information please see OTHER COURSES.
We also offer advice on menu design and analysis to meet nutritional standards and highlight healthy eating and special dietary options on prison menus and shops.
If you would like to discuss the possibility of us providing input to your service please CONTACT us. If you are a previous participant of one of our courses or would like some more practical information on healthy eating and recipes please go to RECIPES or TOP TIPS. If you want to read about some of the latest research linking diet to mental or physical health, please go to IN THE NEWS.