Home | Pictures | Supplies | Framing | Art Courses | Try this at home! | Exhibitions, etc. | Contact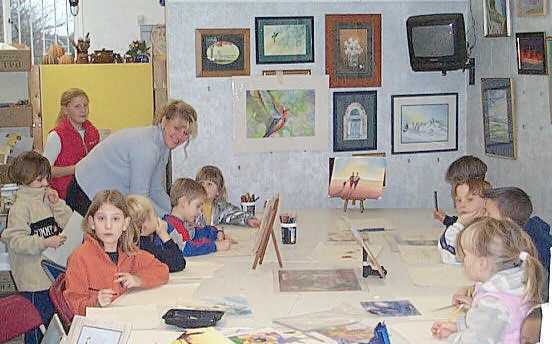 Lynne Holehouse takes an art class.

I have painted all my life and watercolour is my passion. I started helping friends to paint at home and from there started to expand my classes. Today I run over twelve sessions weekly, teaching children and adults with the help of my dedicated and enthusiastic team of artists. I really believe that, with the right motivation, anyone can learn to paint, improve their skills or be inspired to pick up their brush again if they've "gone off the boil".

If you're a complete beginner and feel dubious about coming to a class, please do take the plunge - my classes are relaxed, friendly and fun, and you will find that many of you are in the same boat! I always demonstrate at the classes and I'm keen to show you everything I've learnt about painting."

For up-to-date information on prices and other details, click HERE. To discuss any courses, or, for your own specific requirements, click "Contact", in the menu above.
artists,cherry,Bristol,art classes,tuition,art materials,painting,art supplies,art lessons,bob Ross,picture framing,watercolour,England,children's art classes,parties,Holehouse,art clubs

© CherryArtCentre
CherryArtCentre acknowledges the copyright and ownership of external linked sites. Please report any technical problems with this site to the webmaster.